SIPF-Symposium, November 2021
Put your brain and heart into it – neuro- and biofeedback in applied sport psychology – an introduction to the field.
Online ZOOM symposium
When: Sunday, 14 November, 2021, kl. 15.00-20.00, Central European Time (CET)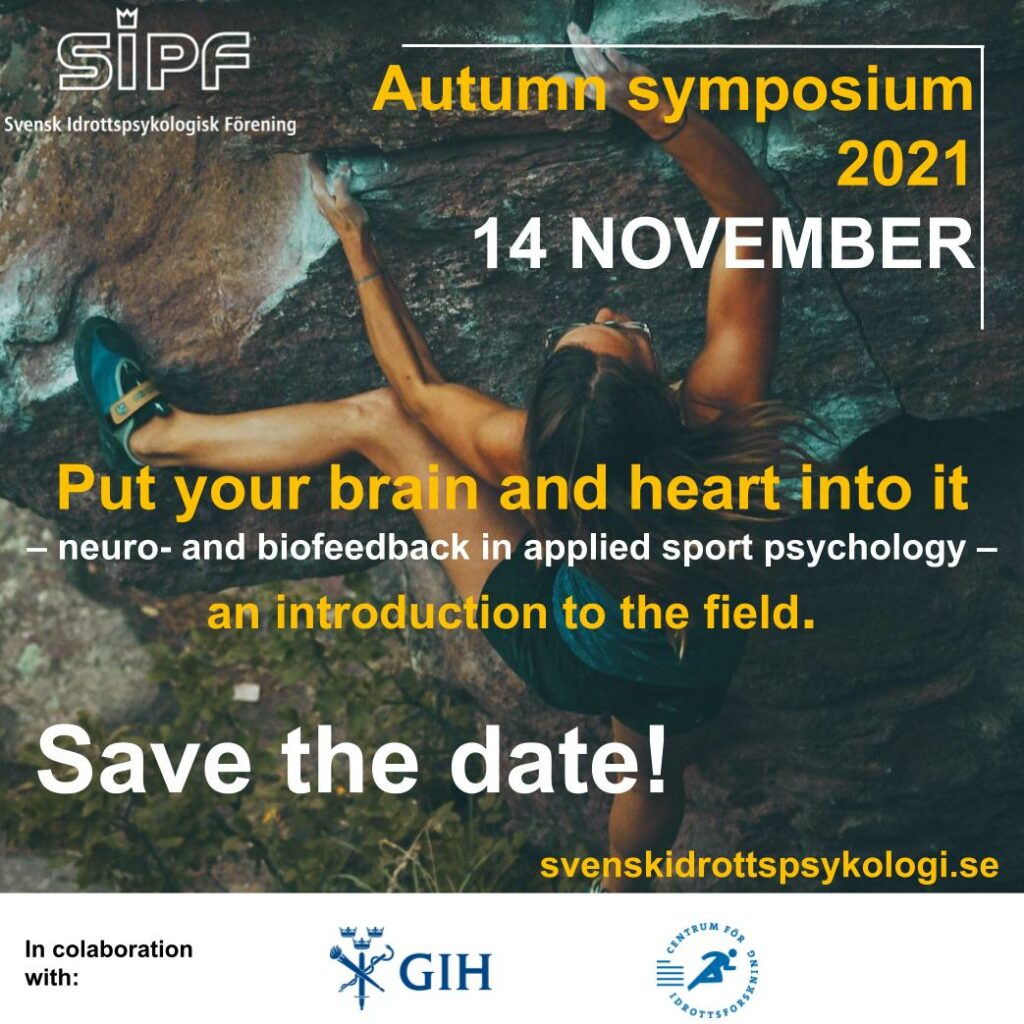 Presenters:
Professor Penny Werthner, PhD
Dr. Lindsay Shaw, PhD
Dr. Leslie Sherlin, PhD
Dr. Inna Khazan, PhD
This event is financially sponsored by Swedish Research Council for Sport Science
Information about the symposium
Swedish Sport Psychology Association (SIPF) welcomes anyone interested in sport psychology and neuro/biofeedback to this symposium.
About the conference
World leading sport psychologists will present their use of bio- and neurofeedback interventions at the Olympic Games and in elite sport settings. The goal with this symposium is to show how bio-and neurofeedback training can be applied to train the brain, for example, how to improve an athletes attention. Also, how neuro- and biofeedback can be applied in combination with other sport psychology services.
Introduction to the bio- neurofeedback field
The symposium will provide an introduction to area of bio-neurofeedback. Previous experience in this area is not needed to participate. However, for more experienced bio- neurofeedback practitioners there will be lots to learn listening to leading experts in the field describing and discussing their different approaches and interventions.
A longer presentation of the presenters:
Professor Penny Werthner, PhD
Dr. Penny Werthner, PhD, is one of Canada's most distinguished consultants in the field of sport psychology. She has served as a sport psychology consultant for Canada's national and Olympic teams since 1985. During this period, spanning over 13 summers and winter Olympic Games, she has worked with many Olympic level athletes, coaches and teams. She is one of the founding members of the Canadian Association for the Advancement of Women and Sport and Physical Activity (CAAWS) and has been named one of the Top 20 Most Influential Women in Sport and Physical Activity by CAAWS. Werthner has more than 30 years of distinguished experience in sport psychology consulting, sport-related management consulting, program management and academic leadership. She became the Dean of the Faculty of Kinesiology at the university of calgary in 2012. She came to the University of Calgary after spending 12 years at the University of Ottawa as Director and Associate Dean of the School of Human Kinetics.
Her research is in the area of life-long learning, particularly in the area of high-performance coaching; women and sport; and the use of heart rate variability biofeedback and neurofeedback for optimal performance in high-performance sport. Her current research includes an on-going investigation of cortical activity in high performance athletes utilizing mobile eeg. She has written dozens of peer-reviewed papers and parts of books. She serves as a reviewer for various journals, such as Qualitative Research in Sport and Exercise, and Journal of Applied Sport Psychology, and is a member of the editorial board of the Canadian Journal for Women in Coaching. She is the current Chair of the Canadian Sport Psychology Association (CSPA/ACPS), is a member of the International Council for Coach Education, is an advisor to the Coaching Association of Canada Women in Coaching Program and is a learning facilitator for the National Coaching Certificate Program (NCCP).
Dr. Lindsay Shaw, PhD
Lindsay Shaw, EdD, CMPC is a Senior Sport Psychophysiologist at the United States Olympic Committee since 2013. In her role as a sport psychologist and psychophysiologist she is working with performance and clinical needs of both summer and winter National Team athletes. She utilizes brain computer interfaces, brainwave stimulation, sleep assessments, heart rate variability interventions, and other novel approaches in her work with elite athletes. Dr. Shaw is intrigued by the prospect of identifying psychophysiological markers for elite performance.
She was a student athlete at UPenn, and has her Masters and Doctoral degrees from Boston University in Counseling Psychology, with a specialization in sport performance. She serves an as adjunct faculty member at the University of Denver's Graduate School of Professional Psychology. Dr. Shaw has authored numerous peer reviewed journals, book chapters, and other publications. She frequently presents her work to professional associations. Dr. Shaw has developed, advised and provided training for psychophysiology labs in elite athlete training centers and National Olympic Committees domestically and abroad.
Dr. Leslie Sherlin, PhD
Leslie Sherlin, PhD is a licensed associate counselor and sport & performance psychology consultant to dozens of athletes, teams and individuals. Dr. Sherlin has had an extensive career in providing patient services, academic research and instruction, and entrepreneurial endeavors in mental health care. He is an expert in the research and use of neuroscience for improving human performance. He has led research partnerships with Red Bull North America's High-Performance Center, USA Track & Field, US military Special Operations Forces, local and federal level law enforcement agencies, Fortune 500 companies and professional teams in multiple sports in many countries. He has published this work in the academic literature and has been featured in the Wall Street Journal, BBC, Sports Illustrated, CNN, ESPN, CBS, Popular Science, Outdoor Magazine and more. He is listed in the United States Olympic Committee Sport Psychology and Mental Training Registry.
In academia, he currently is Assistant Professor of Psychology and the Disability Services Coordinator for Ottawa University Arizona campuses. He is a Senior Doctoral Adjunct Dissertation Chair and Adjunct Faculty at Grand Canyon University, Phoenix, Arizona. He is Adjunct Associate Professor at Southwest College of Naturopathic Medicine in Tempe, Arizona and Adjunct Research Faculty at Northern Arizona University, Flagstaff, Arizona. Previously he was Lead Faculty for the Bachelor of Arts in Psychology and Associate Dean of Academics at Ottawa University, Arizona. He has served on the board of directors for the International Society for Neurofeedback and Research, the Biofeedback Certification International Alliance and the International Board of Quantitative Electrophysiology in a number of elected positions including the president/chairman.
Dr. Inna Khazan, PhD
Inna Khazan, Ph.D., BCB, is a faculty member at Harvard Medical School and a clinical psychologist specializing in health psychology and performance excellence training using biofeedback and mindfulness-based approaches. She is recognized as a pioneer in the area of mindfulness-based biofeedback. She teaches nationally and internationally for organizations such as the US Navy Special Warfare, US Army Special Forces, and the Stuttgart Opera and Ballet Company.
Dr. Khazan is the president of the board of directors for the Institute for Meditation and Psychotherapy (IMP), board member for Applied Psychophysiology and Biofeedback (AAPB), and chair-elect the Biofeedback Certification International Alliance (BCIA). She is the author of numerous journal articles and two highly regarded books: Clinical Handbook of Biofeedback: A Step-by-Step Guide to Training and Practice with Mindfulness and Biofeedback and Mindfulness in Everyday Life: Practical Solutions for Improving Your Health and Performance.
Dr. Khazan is the founder of Boston Center for Health Psychology and Biofeedback and ARETE Institute for Performance Excellence.